Commercial Solar Energy Projects
Solar Electric and Water Heating
Solar Energy for Businesses – Trust an Established Expert
Advanced Energy Systems (AES) is Oregon's most successful commercial Solar Electric and Solar Water Heating contractor, by virtue of the most installed generating capacity of any solar contractor working in Oregon. We believe in what we are doing, and that shows in our work. Since 2002, our team has worked exclusively on renewable energy projects. Our electricians and technicians have honed their skills over the years on various facets of installation specifically relevant to solar energy applications. AES has remained on the leading edge of new technologies and techniques. We have a thorough understanding of the shifting landscape of available incentives.
We offer a "turnkey" product, meaning that we can manage your project from start to finish, beginning with a conceptual design all the way through the final inspection. Our process starts with a solar site survey. Once we have determined site feasibility, we will design a system that maximizes the return on your investment, and fulfills the goal of supplying clean renewable power to your business. We will present a detailed proposal and explain our choices of what technologies to use. As a strong proponent of locally sourced materials, we promote "made in Oregon or "made in America" components. We have found that most clients prefer this. By request we can provide any components from worldwide leading suppliers. Over the life of your renewable energy system, we will provide local service and support. Please contact us to learn how a solar energy system can benefit your business.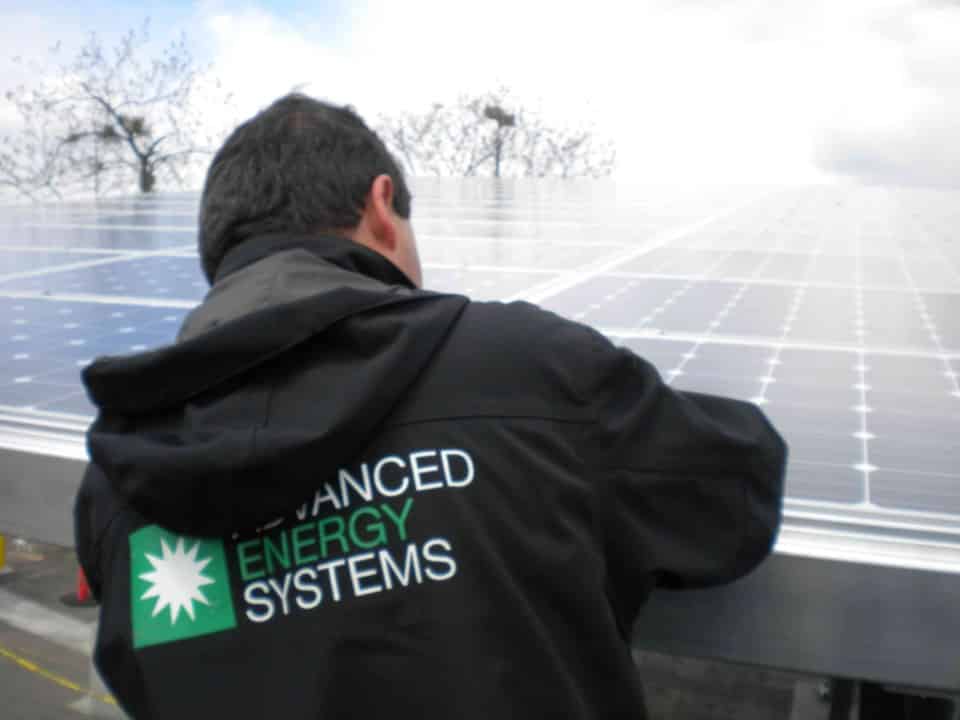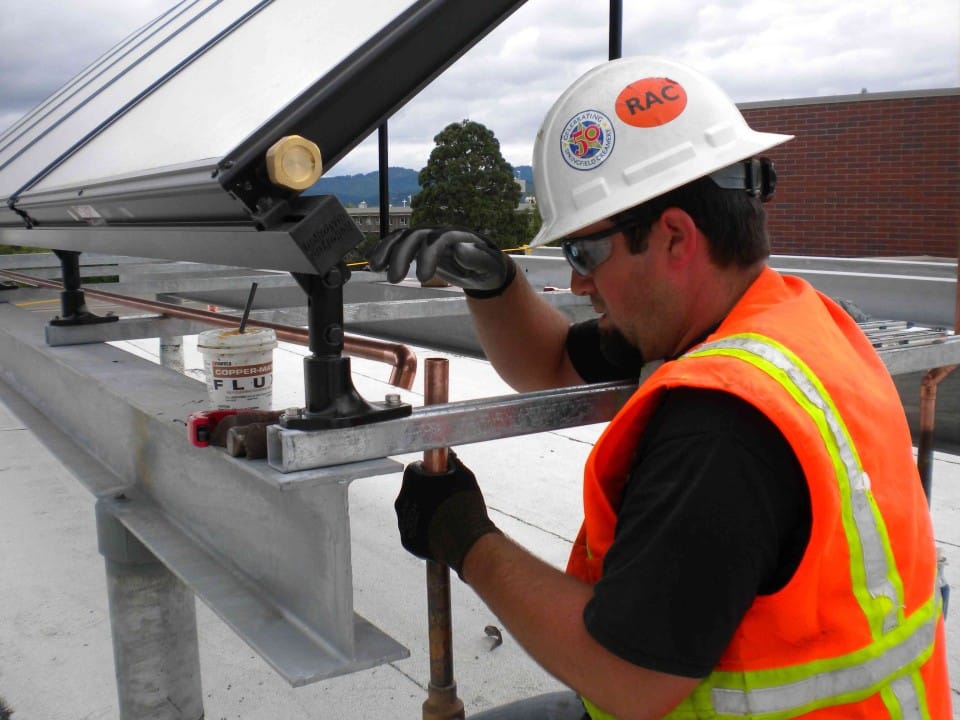 Design & Installation
Advanced Energy Systems is the recognized leader in commercial solar energy system design and installation in Oregon. Our design team looks at all aspects of the project before recommending a solar solution. We employ our own design staff that have vast experience in the field. This allows us to craft a solar facility that functions at peak efficiency, while considering the aesthetics and the visual aspect of the design. Advanced Energy Systems utilizes it's own installation crew, and is proud to employ the most experienced field supervisor in Oregon and possibly the Northwest, Paul Vermilyea. Our supervising Electrician, Ken DenOuden can produce 1-line drawings in house, and has a vast project management resume. Ask around, when it comes to a single source for installation and design, Advanced Energy Systems is the recognized expert.
Energy Trust of Oregon Trade Ally
Advanced Energy Systems is a proud Trade Ally of the Energy Trust of Oregon. As a Trade ally contractor we receive training and support from Energy Trust, and can complete and submit your cash incentive applications. Energy Trust contractors like AES offer energy-efficiency and renewable energy services and products to help you produce and use energy wisely. Energy Trust encourages you to refer to the network of licensed and insured independent contractors like AES. They are up-to-date on the latest Energy Trust standards, quality control requirements and incentives. For more information from Advanced Energy Systems about Energy Trust services and available cash incentives, please contact us.